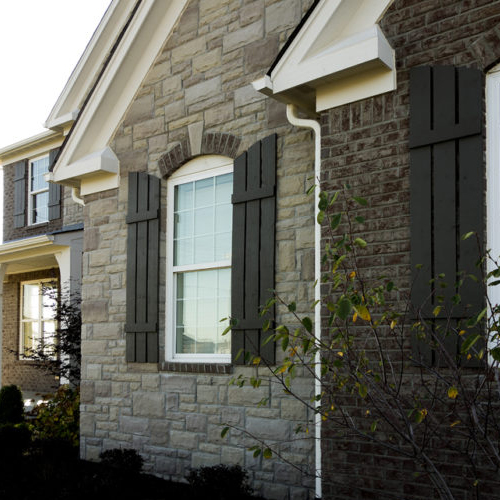 Your customers are looking for the fastest way to build and remodel homes with quality products.
Here's a way you can help them: point the toward easy-to-install Nu-Wood shutters.
Made of lightweight polyurethane, our shutters are available in both standard and custom sizes to match the needs of any home window configuration.
"Decorative shutters instantly transform the front of a home," says Randy Miller, sales director of Nu-Wood, a Jasper Plastics company. "Curb appeal can be enhanced dramatically by having one-piece detailed shutters installed over brick, stucco, plank or vinyl siding. We offer 10 different styles to complement the architectural design of any home."
Nu-Wood shutter offerings include quarter round, elliptical and straight cut board and batten styles with different board and batten configurations. We also manufacture raised panel and louvered shutters.
Unlike many shutters, Nu-Wood shutters resist paint peeling, moisture, insects, salt air and sea spray, plus humidity and rot. The composition and durability of the polyurethane shutters make them the ideal low-maintenance home accent to increase the appeal of a home exterior.
Want to be a real hero to your customers?
Remind them that our shutters can be ordered in any one of 1,500 Sherwin-Williams paint colors. As part of the Nu-Wood Classic Color Program, this means the shutters they select arrive ready for immediate installation. Touch-up paint kits are even included with each order.