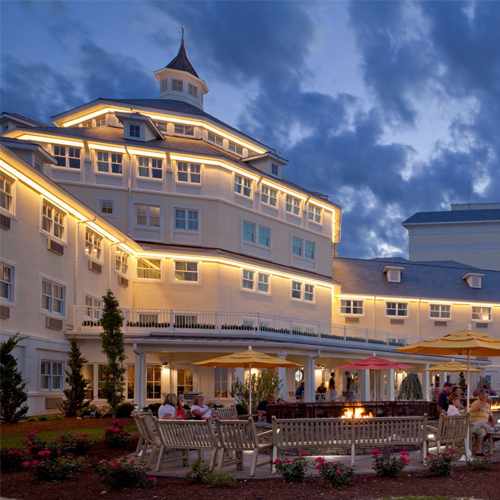 It's summertime, and that means the theme parks are open and ready for business!
At Cedar Point amusement park the goal is not just to get folks into the park, but to have them stay overnight in the adjacent Hotel Breakers. Situated on the shores of Lake Erie, the 110-year-old hotel was renovated in 2014 and 2015.
To add distinction to its historic structure, nearly 500 Nu-Wood polyurethane custom brackets have been added to the eaves.
"We know that being low maintenance was a key factor in the owners selecting Nu-Wood products," says Eric Lapohn, estimator and safety director at Architectural Siding, Trim and Roofing, Inc. "With so many brackets required and the elevation at which they were installed, any future maintenance would be costly to the owner. Nu-Wood's willingness to create a custom bracket for this project and provide detailed drawings of the brackets was a big benefit to us, as the installing contractor, in the selection of these brackets."
To be clearly visible from the ground, each bracket was created at a height of five feet tall by three feet in depth. Due to the closed cell nature of polyurethane, the brackets will not rot, crack, absorb water or swell. The pieces are moisture-, mold-, insect- and impact-resistant, making them ideal for the hotel setting on the shores of Lake Erie.
"Phase one of the renovation involved installing 225 of the brackets on the roof line," says Jim Carson, vice president of Architectural Siding, Trim and Roofing, Inc. "The second phase saw us installing 205 brackets. Next up we'll add 65 brackets to a new addition planned for the hotel this year. Our team had no difficulties installing these lightweight pieces and we found that they really enhance the exterior design of the property. From both a cost and low-maintenance perspective, the Nu-Wood products really add value to this project."