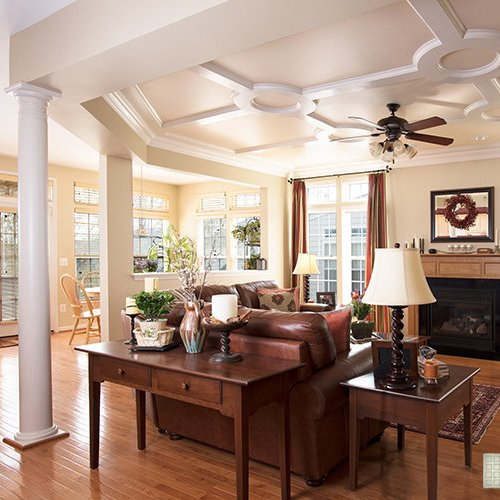 The often overlooked "fifth wall" in a room can be a showstopper — when a coffered ceiling is added.
Tilton Coffered Ceilings offers hundreds of impressive Box Beam and Shallow Beam ceiling treatment design options to create the "wow factor" for any room.
Typically installed in just one or two days, the coffered ceiling systems and kits manufactured by Tilton Coffered Ceilings are oftentimes constructed using versatile polyurethane, supplied by Nu-Wood™. The synthetic millwork offers several distinct advantages over Medium Density Fiberboard (MDF) and wood when the desired finish of the ceiling is to be painted.
"There are a multitude of reasons why the Nu-Wood products are an excellent fit with our ceilings," says Jason Tilton, president and inventor at Tilton Coffered Ceilings, Inc. "The lightweight polyurethane pieces we use are made from custom molds that offer a reduction in the quantity of seams in the finished product since they can be molded to look like the build-up of many pieces. Nu-Wood's ability to create custom molds that fit our design needs allows us to be extremely innovative.
"The quality of materials supplied to us by Nu-Wood, combined with their willingness and ability to produce custom pieces makes them an excellent source partner."
In addition to using polyurethane, Tilton Coffered Ceilings offers a variety of material options for their ceiling treatments including pine, poplar, cherry, walnut, mahogany, red oak, maple, PVC and MDF. For additional information and pricing visit www.tiltoncofferedceilings.com.