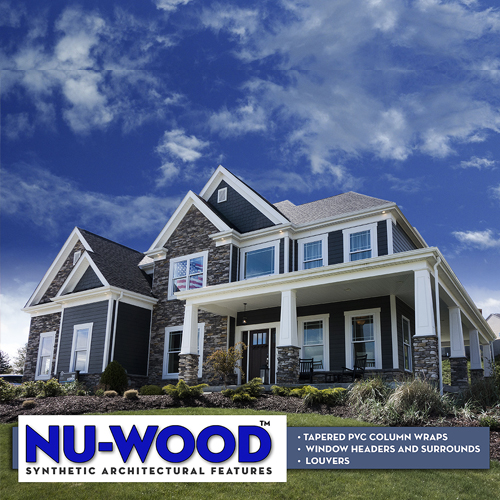 What motivates a dealer to depend on a millwork manufacturer? Certainly the quality of the pieces produced and the availability of those products.
However, many dealers are also driven to support Made-in-America products … not just from a patriotic position, but from a realistic delivery standpoint. And that's where Nu-Wood comes in. Its customers trust the company to provide what they need for all of their projects.
"One of the leading named polyurethane manufacturers in our industry ships most of its products from China, which can cause lead times of well over eight weeks," says Brian Teter, territory sales manager with Alside Exterior Building Products. "Those long lead times simply don't work for many of our customers.
"Then there's another consideration that a lot of people still take pride in purchasing products made in the United States. When we buy from a company like Nu-Wood, we know the pieces are made in Indiana and will be available very quickly to fulfill our customer's orders."
Supporting American production isn't the only reason dealers have begun to lean more toward millwork companies in the United States. Because companies like Nu-Wood are not shipping overseas, pricing and response time are improved.
"Many of our door and window headers sales are price-driven," says Tom Lacko, outside sales representative for 84 Lumber. "And to accommodate our customers' needs, we are looking for competitive pricing and timely availability. We get both when dealing with an American-made company like Nu-Wood."
At the 84 Lumber location in Cleves, Ohio, Lacko adds Nu-Wood's wide selection of products and custom sizing options make them a preferred provider. "84 Lumber and Nu-Wood are partners with Maronda Homes," says Lacko. "Together we supply tapered columns, door and window headers and flat trim boards. It's very important to us, and to Maronda Homes, to have access to products quickly from a Made-in-America company."
At Richards-Supply in Columbus, Ohio, Tim Lacy believes having Made-in-America products is a good selling point to their customers. "We've been selling these polyurethane products for 10 years to our builder customers," says Lacy, an outside sales representative. "The flexibility and affordability of Nu-Wood products are the features our customers most appreciate. We choose to keep working with this manufacturer because their price point is where we need to be competitively in the multi-family market. Getting a quality product at a good price point really matters to our customers."