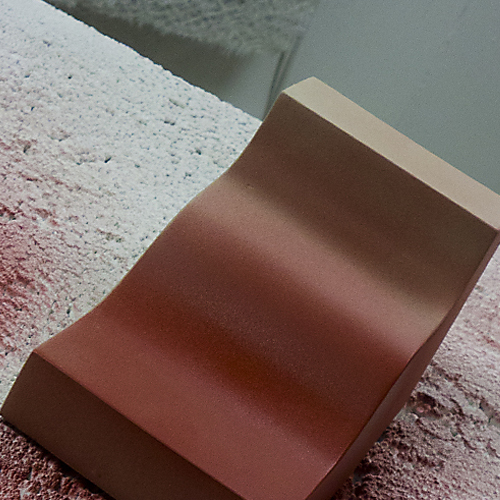 What's the difference between Antique Red and Poinsettia Red? Keenan Paschke knows.
As a color specialist with Sherwin-Williams Company, it's his job to understand more than 1,500 paint colors and assure they're each applied accurately to decorative millwork pieces at our Nu-Wood facility.
"Builders, contractors and architects can all request polyurethane pieces painted at the Nu-Wood factory in any of our colors," says Paschke, a technical services representative with Sherwin-Williams Co. "This means the decorative millwork arrives at the jobsite completely painted and ready to install immediately."
Paschke spends a part of each day at the Nu-Wood facility in Syracuse, Ind. assuring exact color matches for our company's Classic Color Program.
"We've set up special equipment in a sterile area to assure no dust or airborne particles adhere to the wet paint on the Nu-Wood products," says Paschke. "You can't gain accuracy like this on a job site because anything from sawdust to insects may adhere to the wet paint on the pieces.
"Additionally, our paint sprayers at the plant can get into every nook and cranny easily to assure a uniform and complete paint application. While wet, the painted pieces go through large ovens with filtered air to cure the paint. This is a unique process that provides an outstanding bond between the material and paint. When painted pieces come out of the ovens, they're tack-free and ready to ship. That speed and accuracy just isn't something that can be duplicated on the job site."
According to Paschke, Sherwin-Williams has set exacting color tolerances, twice as strict with color matching as the industry standard. This means that a builder, architect, or even a homeowner can visit a Sherwin-Williams store, find a color card and request the paint number they desire. When the Nu-Wood pieces are painted, they will match the exact color on the card.
"Nu-Wood is in an exclusive category by offering in-plant controlled painting of decorative millwork pieces," says Paschke. "We've worked together to create processes that allow for perfect adherence of the paint to the polyurethane pieces. That's a winning combination for everyone — the architect, the builder and the homeowner — because the end results are flawless."