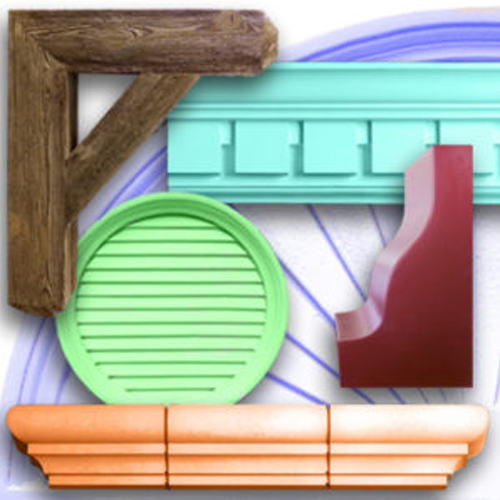 No matter what the groundhog says on February 2nd each year, you can rely on the fact that business will pick up during the Spring months when everyone has "home improvement fever."
You can stoke that fever by reminding your customers of some simple home upgrades they can offer their clientele to jumpstart their project work this month.
These quick home projects can enhance the curb appeal of a house while generating fast sales for you and your customers.
Project #1 – Entry door. Make the main entry of a home a welcoming one by surrounding it with decorative pilasters, a header and a pediment. Paint these pieces a contrasting color to the door to create a regal entry (or order the pieces already painted through the Nu-Wood Classic Color Program).
Project #2 – Shutters. Encourage homeowners to get rid of faded or rotting old shutters, or those that need constant maintenance. Replace with polyurethane shutters that never need painting. Select a style that complements the architectural design of the home to get instant curb appeal.
Project #3 – PVC Column Wraps. Hide the ugly structural posts on a porch or entryway with quick-install PVC Column Wraps. Available in tapered and non-tapered designs, Nu-Wood's solid PVC Column Wraps feature exclusive lock-mitered corners for easy installation. Raised and recessed flat panels, along with smooth/plain and fluted profiles are available.
Project #4 – Louvers. Look up on a house. Toward the top you'll generally see a louver that's either decorative or functional (allowing air flow into the attic space). Older wooden louvers are susceptible to rot, decay, insect infestations and even bird nests. Replacing these older louvers with no-nonsense polyurethane louvers that stand up to Mother Nature while requiring minimal maintenance is a must-do project.
Project #5 – Top off Windows. One of the easiest ways to enhance curb appeal is to top off windows on the front of a home with crossheads that are either straight or arched. Nu-Wood's polyurethane headers come as one molded piece and can be ordered painted in any of Sherwin-William's 1,500 colors, so it's "out-of-the-box and onto the house" easy to install!