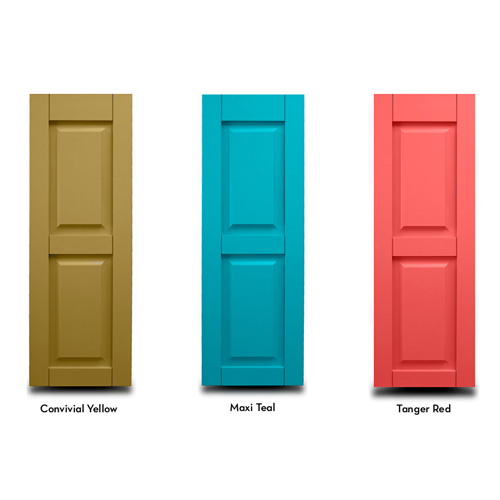 Tanager Red. Maxi Teal. Convivial Yellow.
According to national color expert Kate Smith, these are the three most welcoming colors people can add to their home exteriors to increase their property's curb appeal.
"Red on the front of a home instantly invites someone in with the promise of something delightful inside," says Smith, chief color maven at Sensational Color. "Bright red is a classic, but in today's society I believe that Tanager Red, with its toned down red that leans toward orange, is a really beautiful accent color.
"The second color, Maxi Teal, is the perfect blend of warm and cool. Almost any shade of blue-green complements brown, white and warm gray exteriors and this is the ultimate in teal. A recent study of 30,000 people from 100 countries confirms that a blue-green shade of teal was their favorite color. It's easy to see how this enticing color can add great curb appeal to a home.
"Finally, Convivial Yellow. As many people know, yellow is often associated with happiness, sunshine and joy — all positive things. The paler, more approachable shade of yellow found in Convivial Yellow will certainly welcome guests to a home and set it apart in the neighborhood."
Smith relates that homes do not need to be "blanketed" with a specific color, but that subtle splashes of color can be quite effective. From potted flowers reflecting the color tones to home accents, curb appeal starts by creating visually-appealing areas of the home exterior.
"Shutters, window trim, front doors and louvers are all the first, most obvious places to add 'pop out' curb appeal color to a home exterior," says Smith. "These are fast, easy and eye-catching areas of the home that can help really benefit from the addition of color."
Smith recommends working with a polyurethane trim manufacturer, such as Nu-WoodTM, that can provide decorative home exterior pieces in any color imaginable. "This company can paint pieces in their factory in any one of 9,000 Sherwin-Williams® Company colors plus in custom colors," says Smith. "That can give you the opportunity to select subtle shades of red, teal or yellow, or your favorite colors, to accent your home."
According to Randy Miller at Nu-Wood, having the color applied to decorative millwork polyurethane pieces inside the factory assures a clean, even coat with no flaws. "Because the paint is applied in a sterile setting and cured in an oven, there's no chance of getting outdoor dust, insects or airborne debris particles attaching themselves to the wet paint, as can happen in jobsite paint jobs," says Miller, director of sales for Nu-Wood, a Jasper Plastics Company. "In addition, the 'out of the box, onto the house' application of the color-painted products speeds up the installation process, saving time and money on the jobsite."
Additional benefits of using polyurethane pieces on home exteriors are substantial for homeowners. The pieces are rot-, moisture-, mold-, insect- and impact-resistant and will not crack, absorb water or swell. Lightweight and easy to install, Nu-Wood pieces come in a wide variety of shutters, door and window trim, louvers, mouldings and brackets.